One easy way to reduce the size of the images you upload to your WordPress site is to install a plugin called?Resize at Upload.
?
First, login as a WordPress administrator. ?Then navigate to Plugins > Add New.

Then search for the plugin called Resize at Upload. ?Type that into the box (the way you see it below) and click on Search Plugins.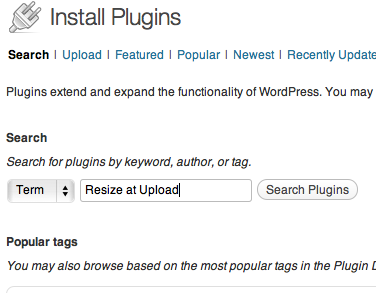 ?
Now click on "Install Now" and click "OK."

?
Now click Activate Plugin.

After the plugin is activated, images will be, by default, resized to 600 pixels wide. ?You can change that by clicking on Settings > Resize at Upload. After you make a change to the width, don't forget to click "Update Settings."
Now your images will be reasonably sized!
?
See the video > http://youtu.be/XtdNoyN0LWc
Resize at Upload's home page at WordPress.org >?http://wordpress.org/extend/plugins/resize-at-upload/
?