This video on YouTube will help you get your ConnectNC hosted email account set up on your iPhone
https://www.youtube.com/watch?v=lmGeQwT_et8

Apple support has a great article on configuring email.   Read the article here.
Screen shots below, from the Apple site, will help you to configure your hosted email.
Your hosting account email will use "Other."  The same goes for ConnectNC (pinehurst.net and connectnc.net).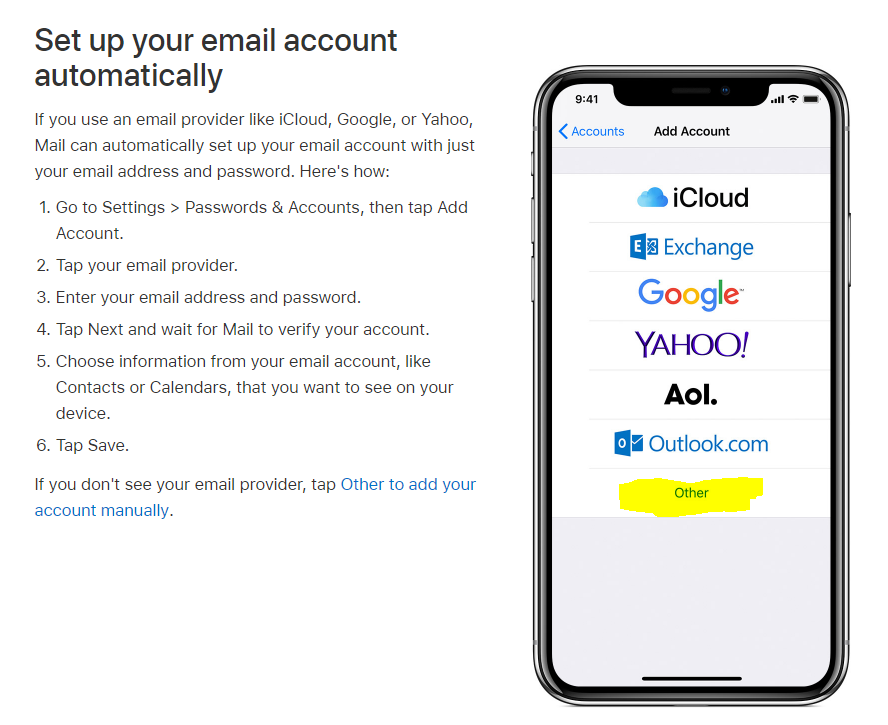 On the next screen, tap on "Add Mail Account."
Type in your Name,  Email Address, Password and a Description.   The Description can be whatever you like.  Everything else must match the details of your account.
Tap Next and on the next screen, type in the settings that pertain to your account.
Incoming and Outgoing mail server host names are almost always "mail.yourdomain.com," where yourdomain.com is your actual domain name.  No quotes! 
If you are using pinehurst.net or connectnc.net, please use mail.connectnc.com for incoming and outgoing mail servers.
Your username is your full email address.  Your password is the one used with your email account.  If you don't know it, you can change it.  Please search our KB for instructions.
Tap Next.  Click Save.
Click the link below to watch a quick YouTube video that demonstrates how to configure ConnectNC hosted email.