cPanel updates improve functions on an ongoing basis. Please refer to this link for the latest documentation: https://docs.cpanel.net/cpanel/
ConnectNC Web Hosting accounts provide your company with e-mail accounts. We suggest using a mail program on your own computer, such as Outlook on a Windows computer or Apple Mail on a Mac. Webmail is a convenient way to check and respond to e-mail when you're away from your computer. Always be sure you do not have the browser save your account password when using a public computer, such as one at a library!
Login to your webmail account by going to http://yourdomain.com/webmail.  Substitute "you@yourdomain.com" with your actual full email address.
Input your entire email address and your account password. Then click the Login button.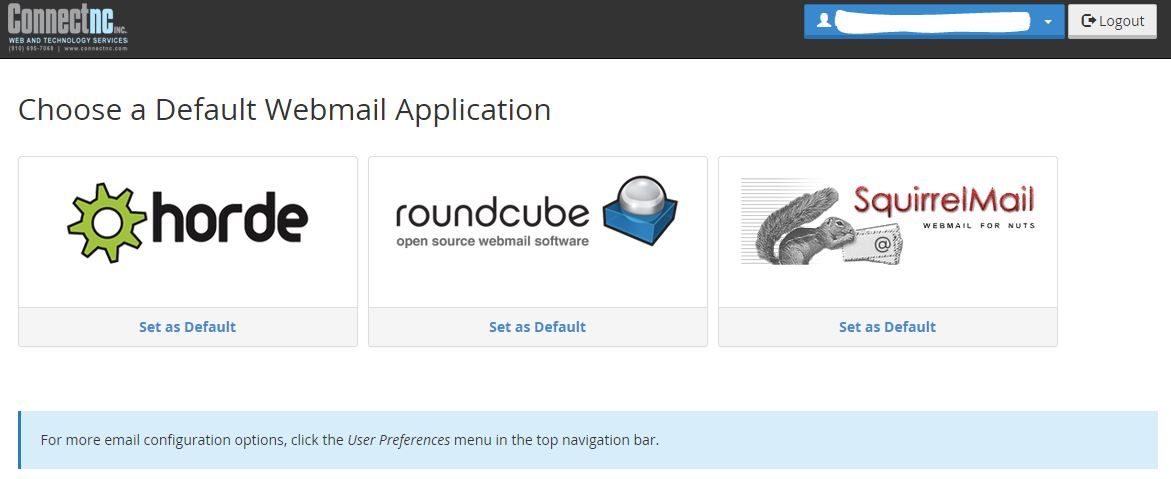 To immediately access your e-mail, click on one of the TWO webmail choices. SquirrelMail is no longer available. We recommend RoundCube. It's straightforward and easy to use. 
These webmail programs are third party software, and are not supported for free by ConnectNC. 
For more information about these webmail programs, see the support site for each respective program.
Horde: http://wiki.horde.org/FAQ/User?referrer=FAQ
SquirrelMail: http://squirrelmail.org/support/   REMOVED BY cPANEL 2/15/2019
RoundCube:http://roundcube.net/support
Configure Mail Client, BoxTrapper and Email Delivery Route will be discussed in another knowledgebase article.
If you encounter broken links, please report them to us.