Windows Live Mail has reached its end of support through Microsoft. ConnectNC can't provide free support related to issues with Live Mail. We can make a best effort to provide paid support, however. Contact us to set up an appointment.
This article is for customers who are setting up an account in Windows Live Mail for the first time.

- Open Windows Live Mail 2012.
- On the first screen (seen below), you will type in your full email address, your password and your real name.

Email address: ?you may use either youraddress@connectnc.net or youraddress@pinehurst.net. Please replace "youraddress" with your actual account name.
Password: This is the password you were given when you signed up for your account. ?If you do not remember your password, please call to have it reset.
Remember this password: Check this box if you don't want to have to enter your password each time you use Windows Live Mail 2012.
Manually configure server settings: Please check this box!
Click Next.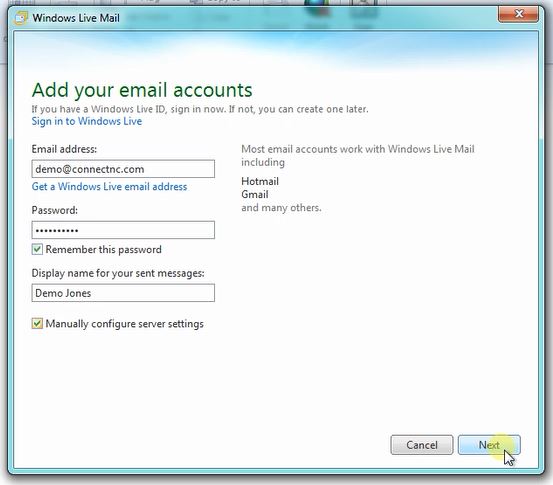 After clicking Next, you will enter the server settings. Take care to enter these values exactly as described!
Mail server settings can be found here:
https://www.connectnc.com/clients/index.php?rp=/knowledgebase/66/ConnectNC.net-or-Pinehurst.net-Server-Settings.html

Please leave everything else as is!

Click Next and then click Finish.